Mayor: Eugene not consulted on hospital closure
3 min read
After PeaceHealth announced it intended to move services from the University District to RiverBend, Mayor Lucy Vinis called on the Oregon Health Authority to reduce the impacts on Eugeneans. OHA says PeaceHealth has not yet requested approval of any changes to its state license.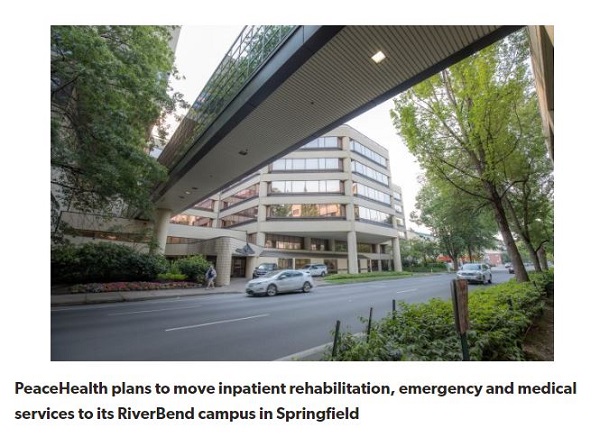 by Mayor Lucy Vinis
Last week, PeaceHealth announced plans to close the University District hospital and emergency department. This decision has significant impact on the city of Eugene, which was not consulted in advance in discussions that could have informed and anticipated the impact to our emergency operations and response.
PeaceHealth is a critical partner in our community. We rely on their capacity to respond to the full array of health needs of our residents. The decision leaves Eugene without an emergency department that is readily and easily accessible to many in our community, including our highest need and most impoverished community members and students living on campus and in nearby university neighborhoods.
The majority of Eugeneans live on the opposite side of the Willamette River to our area's other hospitals. Losing a hospital on this side of the river will strain the city's emergency operations plans and response and further endanger lives – especially in the event of a Cascadia earthquake or other disaster.
This is a business decision. PeaceHealth faces a financial crisis and is amputating the University District Hospital because it is costly. The city of Eugene, which already faces a budget shortfall, will now be forced to shoulder increased costs while our residents face longer delays for urgent treatment in order to enable PeaceHealth to stabilize their budget. As partners, we would like to work with PeaceHealth to find a pathway to mitigate the impacts of their decision on our community.
It is one more terrible message to all of us that our healthcare system is broken.
The issue is bigger than PeaceHealth. It's a question of priorities for us as a state and a nation about how we provide essential health care. This business decision is not in our community's best interests. It will further deepen the crisis of health care in our community. Reducing services now addresses a current financial crisis in a way that will burden our community with serious long-term costs.
I call on the Oregon Health Authority to recognize the implications to our city's public health and emergency preparedness, to prioritize healthcare and public safety, and to require a more sustainable, life-saving solution.
---
OHA: No request from PeaceHealth yet
by Jonathan Modie, OHA External Relations Division – Public Health
OHA is not able to discuss the request made by the mayor. However, the agency can answer questions about the general changes to licenses and closure processes for hospitals.
Closure requires official notification under Oregon Administrative Rule 333-500-0060 (Return of Hospital License and Hospital Closure). At this point OHA has not received notification of a planned complete closure.
The announcement by PeaceHealth indicates they are contemplating changes in service, such as relocation, closure and continuation. Each of the contemplated changes would have a separate process with OHA's Health Facility Licensing and Certification program.
Closure of any service that is required for general acute care hospital licensure as described in Oregon Administrative Rule 333-500-0032(2)(a) (Hospitals, Generally: Definitions, Applications and Renewal Procedures, Fees, Facility Closure) would have to be approved as a waiver by OHA's Health Facility Licensing and Certification program, although the hospital's closure itself does not need OHA's approval.
Waivers requirements are described in Oregon Administrative Rule 333-500-0065 (Waivers).
Relocation of any services would have a review by the Certificate of Need program, the Facilities Planning & Safety program, and then the Health Facility Licensing and Certification program. The program has not yet received a request from PeaceHealth for approval of any changes to its state license.
For background, Sacred Heart University District has 117 licensed beds. Twenty-seven of the beds are in an inpatient rehabilitation unit and 35 of the beds are in an inpatient psychiatric unit. We do not have information on the number of staffed beds.
---
City staff confirmed that Mayor Vinis is asking the Oregon Health Authority to either reject PeaceHealth's plan or impose conditions that will reduce the negative impact to Eugeneans.