Top stories of 2022: 'No confidence' council erodes democracy
11 min read
Most residents have 'not much' or 'no confidence' in a city council that in 2022 ignored widespread local dissent, sought to weaken neighborhood organizations, approved the environmentally-destructive EmX bus system, and extended state housing mandates.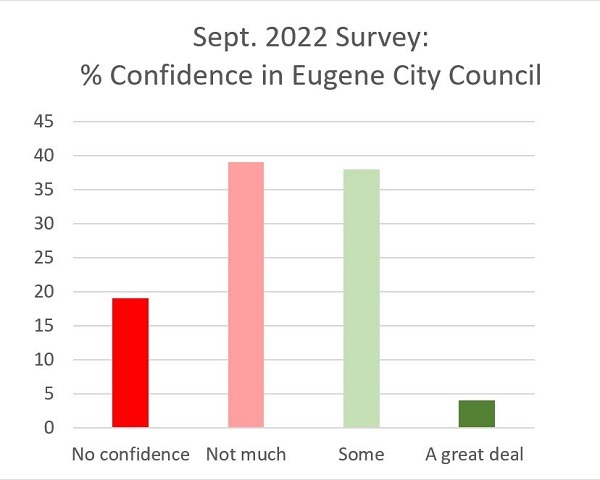 A community survey revealed that most Eugene residents have 'not much' or 'no confidence' in the city council. 2022 saw the first-ever recall of a sitting councilor; another accused of behavior that was 'racist and repugnant;' and a whistleblower report that the city deliberately bypassed local neighborhoods on middle housing.
[00:00:18] We have been closely following the erosion of (small-d) democratic self-governance, as neighbors opposed to the EmX bus system—and then neighbors from all 23 Eugene neighborhoods—were deliberately shut out of the public debate. The city moved to define neighborhoods as private clubs, rather than as public meetings open and available to all.
[00:00:36] Our coverage starts in late February, leading up to the March 14 council vote on EmX. Local residents collected over 500 signed petitions and presented them to all members of the council, asking them to vote against River Road EmX.
[00:00:52] Charlie Rojas (River Road / Santa Clara area): We have about approximately 500 petitions that are vehemently against the EmX. One guy, one man doing it on his own, has been able to figure out just how much these plans antagonize people, how much people are against this. This has been a remarkable display of democracy in actual practical application. The city of Eugene and the population of Eugene owe a lot to these folks.
[00:01:19] Mark Osterloh (EmX opponent): I actually walked up and down each side of each of the corridors, asking people to sign a petition saying they opposed these plans. I knocked on every business and house directly on the corridors. And I got incredible responses from these people. Well over 95% of the people had no clue whatsoever that these plans existed and would affect their properties. When I showed them copies of what they were planning to do, they were absolutely stunned. They were really burnt when it came to River Road, where they were planning to take two lanes of car traffic, only leaving one lane each way, and to turn those into bus-only lanes, and they were saying the traffic jams there would be absolutely incredible.
[00:02:07] John Q: Only one city councilor acknowledged the petitions. At the Feb. 28 joint meeting with LTD, Councilor Mike Clark.
[00:02:15] Councilor Mike Clark: I have a constituent in my ward who in a very short time, has managed to get just less than 500 petitions signed saying that those folks immediately adjacent to that Coburg leg are absolutely against the idea. I've got a pile of signatures, you know, three, four inches high here.
[00:02:33] John Q: Later in the Feb. 28 meeting, Claire Syrett.
[00:02:37] Claire Syrett: In spite of those recent communications that Councilor Clark referenced that we received, I would encourage my colleagues to listen to the voices of those who've been most engaged in the process over the past several years, who've invested their time and their energy and understanding what is being proposed and have come on to the side of supporting EmX and have even lobbied me to say, you know, 'Please make sure that EmX gets built out here.'
[00:03:09] We know there are people in our community and other communities who don't support public transit and don't want to see further investment in it. And I believe this particular opposition effort is trying to engage those folks. But I don't believe that it's a majority of the public. I haven't checked my email today, but as of yesterday, I don't believe I've received one communication from a property owner along River Road who has concerns about this proposal.
[00:03:38] John Q: On March 14, the city council named EmX on River Road its locally preferred alternative.
[00:03:46] Claire Syrett: … and I also had some folks write to us saying that I had said that I hadn't heard from anyone in opposition from my ward. That is not what I had said at our prior work session. I had said very clearly that I was not aware of any property owner or business owner along River Road who had reached out to me individually in opposition. And I stand by that statement.
[00:04:08] John Q: EmX opponents soon started a second signature drive, for the recall of Claire Syrett. The recall committee filed with the state April 25, logged its first contributions May 3, and started collecting signatures May 7.
[00:04:23] Mark Osterloh: We gave petition signatures to Claire Syrett and she ignored them. And then she lied about receiving opposition to the River Road thing, and then she ignored us and insulted us. So, when the city government doesn't listen to you, it's time to do something drastic. And that's why we're doing a recall, so people in her ward can decide if they want to keep her on the city council, when we feel she does not represent us and she ignores us and in the process also insults us.
[00:04:54] John Q: After River Road EmX was approved, LTD acknowledged that EmX ridership was falling far short of projections. They also said that up to 132 trees would be removed or experience significant impact from the EmX. At the River Road Community meeting April 11:
[00:05:11] Jon Belcher (River Road Community Organization): We lost so many trees when River Road was widened. How many trees will be removed for the EmX project? Our tree canopy is vital to cooling in our community.
[00:05:22] Andrew Martin (LTD): We haven't put on it—I don't have the number off the top of my head. Certainly, if we are going outside of the right-of-way, there could be tree impacts. So if you don't mind, I will send you an email, Jon, after the meeting, and I will dig out kind of all of the tree impact work we've done and send like a summary to you. And if you want to share that with the neighborhood, it's all online.
[00:05:47] John Q: It was up to 132 trees.
[00:05:50] Jon Belcher: Will the buses be electric?
[00:05:52] Andrew Martin: As of now we are not able to purchase buses that are electric that are the 60-foot buses. The technology's just not quite there. We have the 40-foot electric buses, but the EmX, they're all 60-foot articulated buses, and right now, the technology is really just not there to make those electric and have them run for kind of the length of time we need them to run. So right now, no plans to take EmX electric.
[00:06:21] John Q: An independent engineering study concluded that EmX will not ever reduce greenhouse gas emissions. By late July, the EmX opponents submitted over 2,000 signatures to launch the recall.
[00:06:33] Mark Osterloh: Now recall is an extraordinary thing to do, but we have an extraordinary problem in this city.
[00:06:39] John Q: Councilor Syrett then sued the recall organizers for legal fees and damages, claiming they made false statements about EmX on the recall paperwork. Representing her campaign:
[00:06:51] Dan Isaacson: The former secretary of state for our state, Oregon, Bill Bradbury, will be in the Eugene Weekly this Thursday talking about why lying on that form threatens the entire system. He doesn't come out of retirement to give that interview because he just decided to dip his toe into Eugene politics. It's a serious thing.
[00:07:11] John Q: During a city council meeting Sept. 12, the first meeting after the recall election:
[00:07:18] Councilor Matt Keating: …One of our speakers tonight talked about accountability. That accountability piece is laid out very clearly at sos.Oregon.gov, that indicates factual information provided in the public officer's statement must be true. Supplying false information may result in a conviction of a felony with a fine of up to $125,000 and/or prison sentence of up to five years.
[00:07:44] So if you want to talk about accountability, folks, read the Oregon state constitution. It makes it very clear that the statements to recall a sitting city councilor, duly elected, elected official must be true. And supplying false information comes with consequences. I won't get into the legal piece, beyond that, Mayor, other than reading verbatim what's in the Oregon state constitution and at sos.oregon.gov. But I find it disturbing.
[00:08:12] I find it disturbing that someone who served with such dignity and such attention to detail and caring over a decade was treated so unfairly, based on what I interpret—and what I hope the court interprets—as baseless lies.
[00:08:29] John Q: At the only court session to date, held on Sept. 23, attorneys for Claire Syrett asked to amend their complaint. It originally asked the city to stop counting votes, but with the election over they would remove the request.
[00:08:42] The judge asked if defense attorneys would be filing any motions of their own. Yes: They would be asking the judge to rule on a SLAPP claim – that Councilor Syrett had filed a Strategic Lawsuit Against Public Participation. Councilor Syrett quickly withdrew her lawsuit.
[00:08:57] EmX opponents would not be the only neighbors that council members would ignore in 2022. At the public hearing in April, former city employee and HB2001 whistleblower Rene Kane.
[00:09:09] Rene Kane (former City of Eugene): Good evening. My name is Rene Kane. Now retired, I was a neighborhood planner from 2009 to '21, almost exclusively with neighborhood associations. I also sat on the implementation team for HB 2001 code amendments. However, I was never once asked how best to engage neighborhoods in developing this proposal. In fact, the only tool geared toward neighborhood associations and other community groups was developed without my input. There was no training on the tool and no follow-up to see how it was working.
[00:09:42] How effective was it? I was told by planning staff that one neighborhood organization used it, resulting in one neighborhood response. What a failed opportunity. In contrast, the 2009 city-sponsored neighborhood survey resulted in 4,000 responses. 4,000, largely through the effort of volunteer neighborhood boards. Talk about engaging people, literally where they live, in their neighborhoods.
[00:10:11] John Q: Rene also spoke at the Neighborhood Leaders Council April 26.
[00:10:17] Rene Kane: Part of the neighborhood organization recognition policy says we have a role in land use in our neighborhoods. And that's an agreement that has existed since 1976, so, you know, to me the outreach was absolutely pitiful, absent, and I just wanted you all to know that from my perspective, both as a former staff person and I hate throwing my former colleagues under the bus, but, you know, South Willamette: Pitiful. HB 2001: Worse. So, I think Planning needs a whole bunch of help to be able to reach the community that they're impacting.
[00:10:59] John Q: Rene said the public engagement plan was developed behind closed doors.
[00:11:04] Rene Kane: I was the neighborhood person, the one who knew the boards, who knew the schedules, who knew when you had elections, who knew how to reach you and engage you and I was never once asked by Planning Staff to weigh in on the public engagement plan, which is required. I actually had to ask for it twice. I asked for it, then my supervisor at the time had to ask for it so I could read it.
[00:11:32] The only tool that was developed to engage neighborhood associations is called 'Meeting In a Box.' And that was developed with no input from me. No questions, 'Rene, how do we get neighborhoods to use this.' When you all got it, I got it. And I was BCC'ed on it. So I had no involvement in the one piece of their outreach that was for neighborhood associations to be able to engage their neighbors.
[00:11:59] I asked City staff, 'So, Meeting In A Box, how did that go?' At the end of that process, you take a survey, They got one survey response.
[00:12:09] John Q: One councilor asked to shut off the official record of the meeting while neighbors spoke against the city's HB 2001 approach. At the Southeast Neighbors meeting in April, Councilor Matt Keating.
[00:12:20] Councilor Matt Keating: Is there a way to stop the recording for our conversation? So I can just have a frank—
[00:12:24] Zoom voice: Recording stopped.
[00:12:26] Councilor Matt Keating: Thank you. That worked! I appreciate that. I just want to have an open, honest dialogue with you all.
[00:12:31] John Q: After that meeting, the city directed changes to neighborhood meetings. Here is the Southeast Neighbors welcome message in March.
[00:12:38] Dennis Hebert: This meeting is recorded and it's a public meeting. So everything is said and heard and seen, is open to the public for viewing. So, be aware of that.
[00:12:51] John Q: Here is the updated welcome message, in May.
[00:12:53] Dennis Hebert: 'As a reminder, this meeting will be recorded. Personal and audio and video recordings of this meeting are permitted, but only with prior full disclosure to the meeting attendees, any personal video or audio recordings may not be reproduced in any form without informed consent of the individuals represented.' So that's a new introduction that we have now.
[00:13:25] Rob Fisette: I mean, this is a public meeting, right? (Well) I guess I don't know why there'd be any limits on use of a recording of a public meeting.
[00:13:32] Dennis Hebert: Well, we had someone ask me to check on that so I asked HRNI and they're not sure that we are actually a public meeting. The way she put it is that: 'HRNI recognizes that the formally recognized neighborhood associations are not representative of the city, nor are they subject to public meeting laws.
[00:14:03] However, because they are formally recognized entities and receive public funds, there is an expectation that they will act in the spirit of the law and make all meetings open to the public and notice their associations of the meetings on our public meetings calendar.' But as she said, she is kicking it up higher to find out a little bit more about it. And it was because that we had some people ask us about that.
[00:14:33] John Q: Council attempts to stage-manage public opinion may have contributed to their latest survey results. In September:
[00:14:41] Jason Dedrick (City of Eugene): Almost half of our respondents believe the direction that the city is taking is below average or poor. We asked how respondents felt in terms of confidence in Eugene City Council when it comes to handling issues in the city. In terms of kind of negative confidence, not much or no confidence: 58% for council.
[00:14:58] John Q: Those ratings may be even lower now, after the council deadlocked over the interim Ward 7 appointment. On Dec. 14:
[00:15:09] Council President Greg Evans: I am not going to be influenced by racial politics played by certain people at this table. Okay? Don't call my friends in Portland because they're Black and you think that they have influence over me. I reject, resent that repugnant behavior on the part of a certain councilor, and the next time this comes up, I have no problem in naming names and calling people out behind this. It's racist, it's repugnant, and it's against everything in my 62 years on this planet that I have worked for, I have stood for in terms of civil rights, civil liberties, and diversity, equity, inclusion, and belonging. So, just so you know: I'm putting you on notice.
[00:16:11] John Q: After the city quashed local opinion to extend HB2001, more mandates are likely in 2023.
[00:16:20] Ethan Nelson (Eugene intergovernmental relations manager): A researcher said much of housing policy gets gummed up at the local level because of politics and not being able to move things at the local level. What the legislature has done—and he used House Bill 2001 as an example—is to say, 'Look, in this instance you told local governments either you take control and do it your way or you adopt the state's way.'
[00:16:46] And what he highlighted is, he said most of the communities that adopted their own rules in 2001 went above and beyond what the minimum was. And so, he made that case. The state is mandating things and that I don't think is going to change, and I foresee more of that this year.
[00:17:03] John Q: Our top story of 2022: City councilors erode (small-d) democratic self-governance by silencing neighbors with opposing views. One immediate consequence may be less local control and more state mandates in 2023.