Paul Conte:  Ward 7 runoff could go either way
5 min read
Paul Conte says special interest money and outside interests continue to dominate Eugene elections.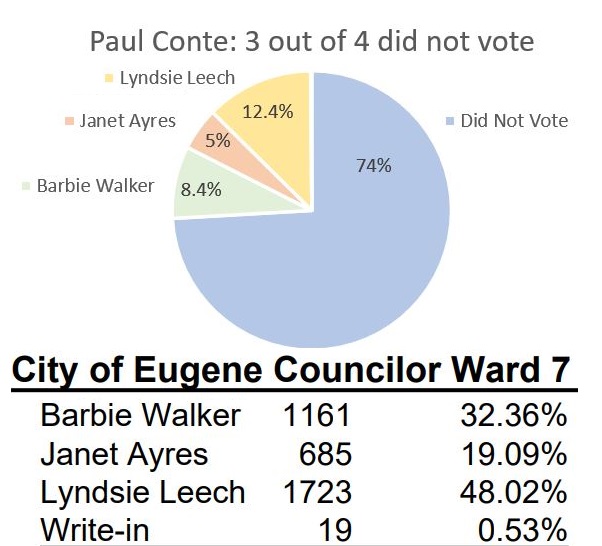 by John Quetzalcoatl Murray
For the fourth time in little over a year, Eugene's Ward 7 city councilor must compete to serve in office.
That is just one of many ripples spreading across the water since the recall and fall of Claire Syrett. Consider some other results of that surprising kerplunk:
Longtime activist Paul Conte, who worked on Janet Ayres's campaign, thinks the election could go either way, and that he personally plans to wait and see.
"Like a lot of folks that were supporting Janet Ayres, I will wait to see what Lyndsie Leech does, both in outreach to Janet and her supporters and in her City Council votes between now and November," he said.
Paul Conte, who continues to be up to his elbows in neighborhood politics while spending some of his time in the Upper Deschutes watershed, offered his election analysis based on the May 18 results.
Paul pointed out that the election was again driven by partisan turnout fueled by outside money. The partisans lined up behind Leech and Walker.
"Leech obviously had the benefit of a strong network from the established local Democratic Party establishment; and, of course, by being the incumbent with a 'progressive' resume and lots of endorsements from establishment 'progressives.' Leech, like Walker, benefited from and is now beholden to special interests, mostly outside Ward 7, who contributed over $30,000 to each of the two campaigns," he said.
Paul thought Walker benefited from Republican Party support and credited the victory to "their heavy promotion of a false narrative" that "Walker was the only candidate who could beat Leech head-to-head."
He pointed out that Janet Ayres voluntarily limited campaign contributions from financial interests and advocacy organizations outside Ward 7, which gave her the greatest return on investment. Using campaign and vote data on May 18, Paul reckoned that Janet Ayres spent $5.14 per vote for her 685 votes while Lyndsie Leech spent $11.77 and Barbie Walker a whopping $27.22.
Paul was gracious in being willing to consider every hypothetical situation posed to him:
Q: Do you think Janet Ayres would have defeated Lyndsie Leech if Janet and Lyndsie were the only two candidates?
Paul Conte: "Yes. Without Walker in the race, the only not-Leech option would have been Ayres, and the local Republican Party would have gone all-in for Ayres. It's unimaginable that many, if any, voters who voted for Walker would have voted for Leech over Ayres when the Republican Party would have used the same GOTV (Get Out The Vote) effort as they did for Walker. The combined vote would have been over 50% for Ayres, and she would have won."
Q: Do you think Barbie Walker would have defeated Lyndsie Leech if Barbie and Lyndsie were the only two candidates?
Paul Conte: "I know this is what the Walker supporters think, but it's not likely… Ayres appealed to people who wanted someone who wasn't beholden to special interests outside Ward 7. In particular, I know that numerous Ayres voters were repelled by the intrusion into the Ward 7 election by the local Realtors, Chamber of Commerce, and other financial interests. Walker tried to 'play it down the middle' and was never clear on EmX and other issues, but that clearly didn't work to bring over the voters who went for Leech, and it also failed to persuade voters that Walker had 'heard' them," he said.
He suggested without Ayres in the race, voters would have stayed home or supported Lyndsie "because Leech was less a proxy for financial interests than Walker."
Q: Do you think Barbie Walker can beat Lyndsie Leech in November?
Paul Conte: "Here's my prediction. It will hinge on two factors: turnout and to whom supporters of Janet Ayres turn. Higher turnout favors Walker if Ayres' supporters are mostly motivated by the strong common 'anybody but Leech' sentiment among both Walker and Ayres supporters. On the other hand, I think if Leech made meaningful overtures to Janet Ayres, Ayres might urge her supporters to vote for Leech. If only a modest percentage of them did that, Leech would prevail."
He was also troubled by the continuing decline in voter turnout.
"Janet and Walker together got substantially fewer votes than the 'Yes' vote on recall," citing their May 18 total of 1,846 as compared to the recall's 2,329. "The turnout as of May 18 was even lower than the 3,928 for the September 2022 recall election."'
If these trends continue, he said, "in the end, Ward 7 voters will get whomever outside interests can buy because of the voters' lack of participation. Until we limit special interest money in local campaigns, our community can expect more of the same."